White sandy beaches. Tropical coral reefs. Warm inviting waters. All this awaits you on the Gili Trawangan and the Gili islands in Lombok.  And with no cars, no motorbikes, and no distractions other than beautiful tropical island scenery, the Gili islands off the northwest coast of Lombok are truly an ideal destination for a tropical getaway.
Offering spectacular reefs and ominous dive sites like Shark reef, the Gili Trawangan, and the Gili islands in Lombok are the perfect escape for anyone wanting to get away to beautiful, natural, and relaxing surroundings. This is why these islands have become a popular destination for Western tourists looking for a remote island experience.
For divers and snorkelers, there are few places better than the Gili's where you can get up close to all kinds of marine life including a green turtle (Chelonia mydas) in all its glory. Swim-up and watch this graceful creature glide through the ocean. You should be able to spot these turtles at depths of 10-20 meters below sea level.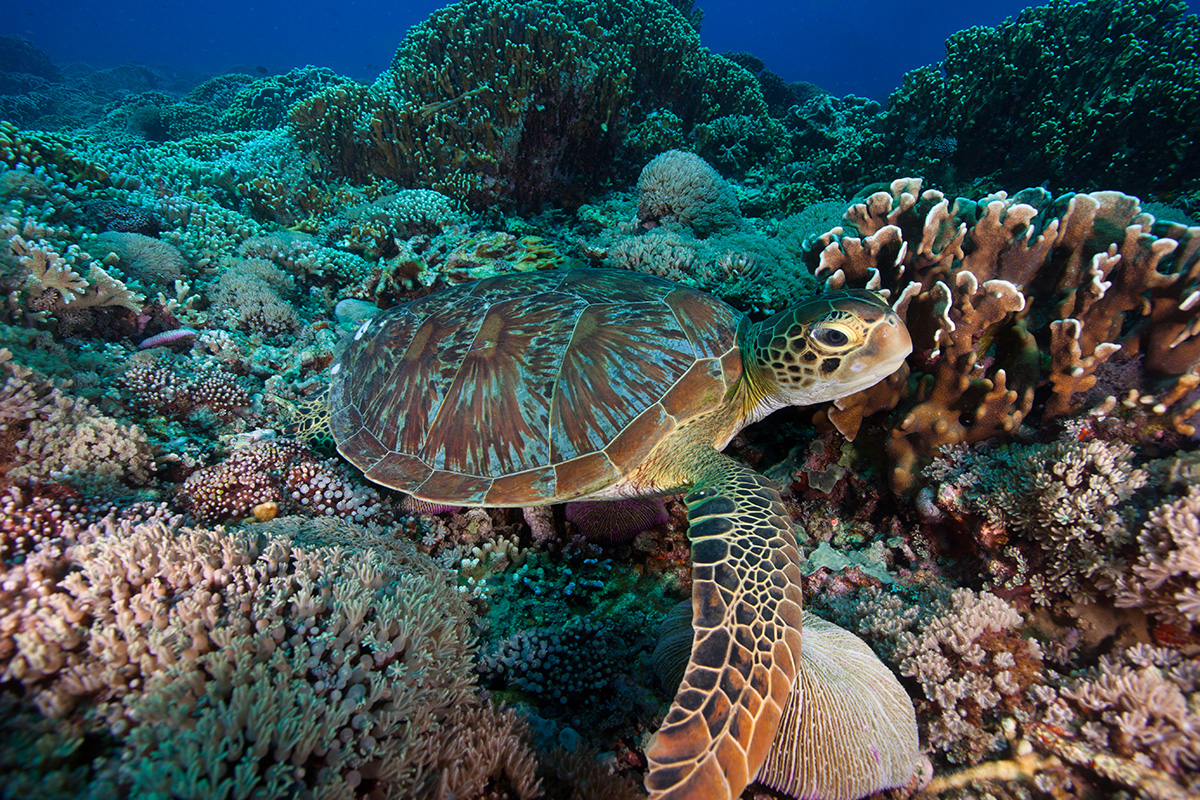 The Gilis consist of three islands: Gili Trawangan, Gili Meno, and Gili Air. In the local Sasak language, "Gili" means "island". In the Indonesian language, plural is denoted by repeating a noun. So "Gili Gili" literally means "islands".
Renowned for friendly locals and superb natural beauty, each of the island's is well prepared for tourists. Gili Trawangan is the largest and most popular of the three islands. It has a vibrant nightlife to keep you entertained once the sun goes down. With a wide collection of restaurants and bars, you'll never be short of entertainment here.
If you're after a quiet getaway, try Gili Meno or Gili Air. Gili Air is closest to the mainland and is the most populated of the Gili's. Gili Meno is the smallest island and, with only a few hundred permanent residents, it has the most remote feel to it. There are plenty of hotels and restaurants built in keeping with the islands' homely village atmosphere.
How to Get Around Gili Trawangan and the Gilis
Cars and motorbikes are prohibited on the Gili's giving each island a very peaceful atmosphere. The best way to get around and explore the islands is by bike. You can rent a bike and take a ride and look at the spectacular views of the tropical landscape.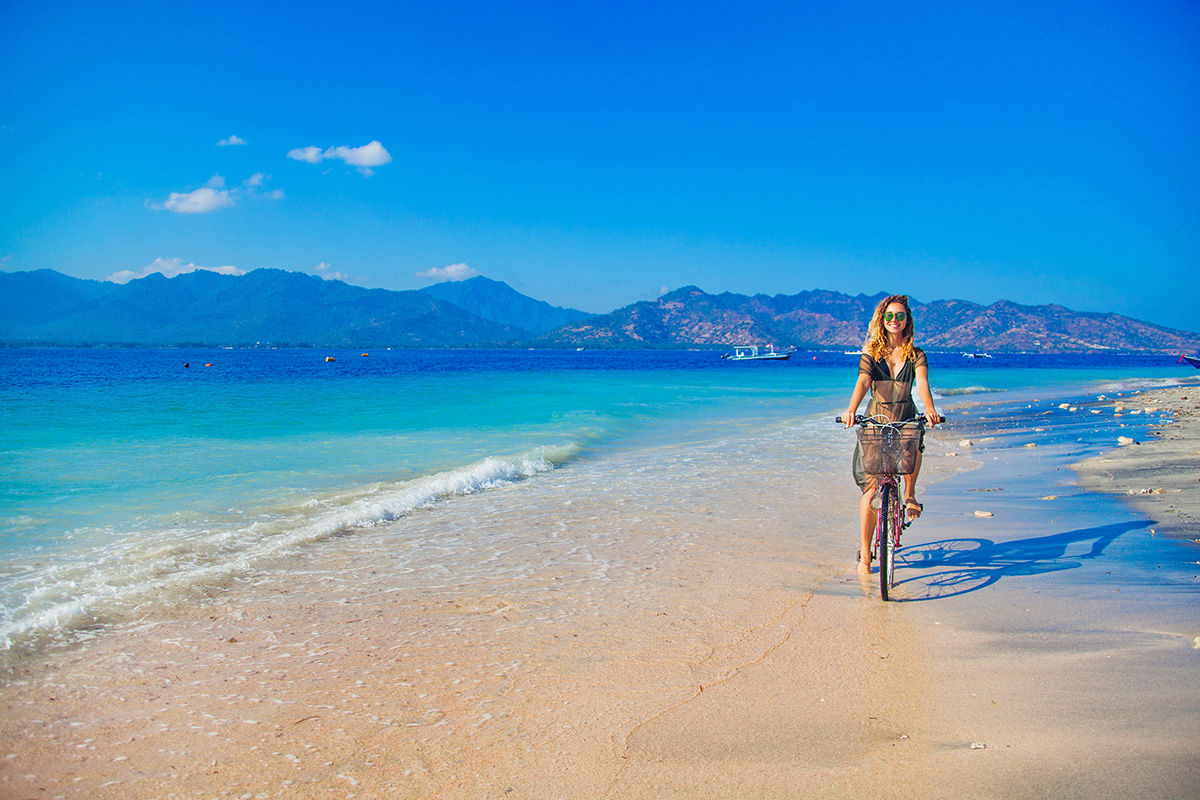 A horse-drawn carriage or cidomo is another popular way to get around for both locals and visitors. A tour around Gili Trawangan in a cidomo taking around half an hour. When you want to stretch your legs there's nothing quite like taking a leisurely stroll around the island.  If you want to travel between the Gili's you can also hire a motorized boat
Along the south coast of the beautiful Lombok island lies a long and wide stretch of beautiful white sand beach facing the glistening Indian Ocean. On the background are lush green hills and mesmerizing landscapes. This is Mandalika, once a surfers' best-kept secret, now it has emerged as the island's capital of leisure. Mandalika shouts heaven from all of its enchanting corners.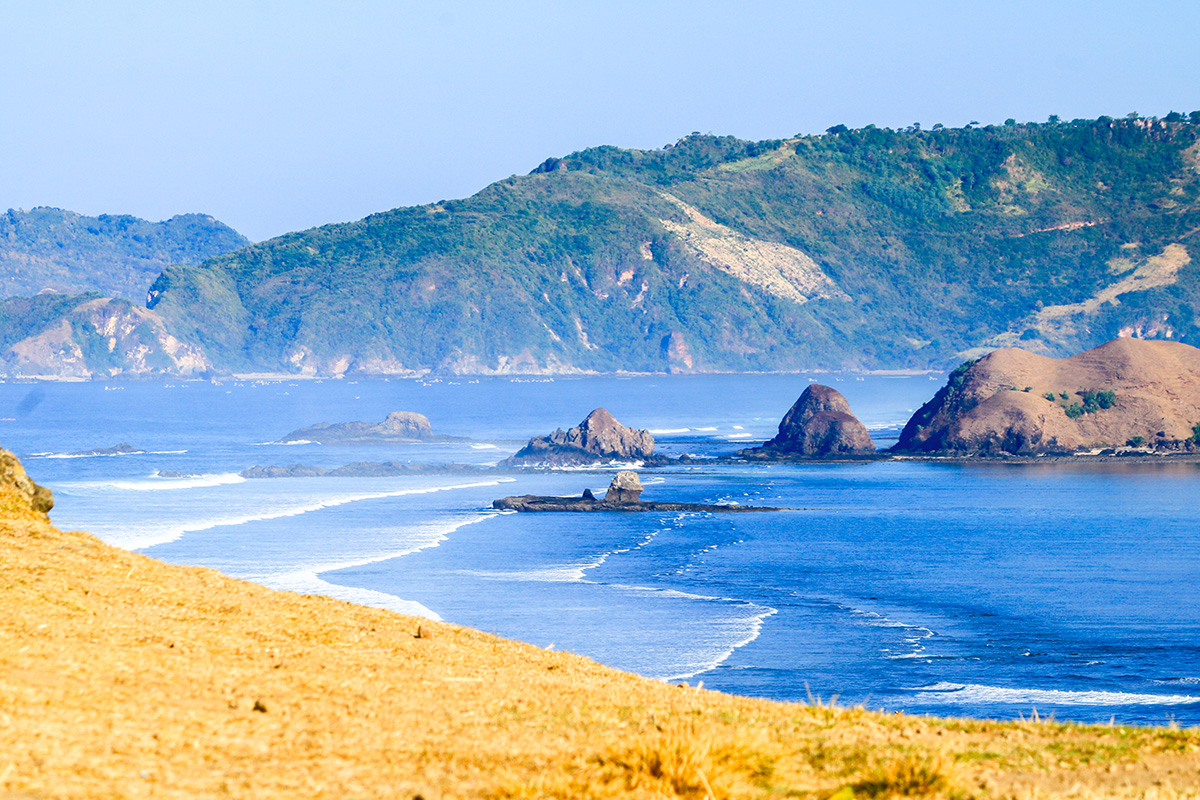 The special tourism economic zone boasts vibrant bars and nightclubs, thrilling racing circuits, exciting water parks, luxurious hotels and resorts, fascinating golf courses, rejuvenating spas, and plenty more; there's everything for everyone at this 1,250-hectare paradise. The tourism industry in Mandalika is equalling its neighboring island, Bali. Mandalika is also a melting pot of tourists from all parts of the globe. Here, the tourism industry fused seamlessly with the unique and colorful culture of the local people that is still well preserved for generations.
Mandalika is also conveniently located near some of Lombok's most outstanding beaches.  These include Tanjung Aan, Kuta, Gerupuk, Serenting, and Seger Beach. From the top of the Merese Hill and Batu Payung Beach, you are presented with some of the most amazing panoramas of Lombok. All kinds of fun water sports activities await at Kuta Beach. Those who enjoy swimming, surfing, and fishing can head to Gerupuk Beach, while those who prefer peace and serenity can head to Serenting Beach. For a one of a kind cultural experience, head down to Seger Beach during the annual tradition of Bau Nyale Ritual and join in the local festivity you won't find elsewhere.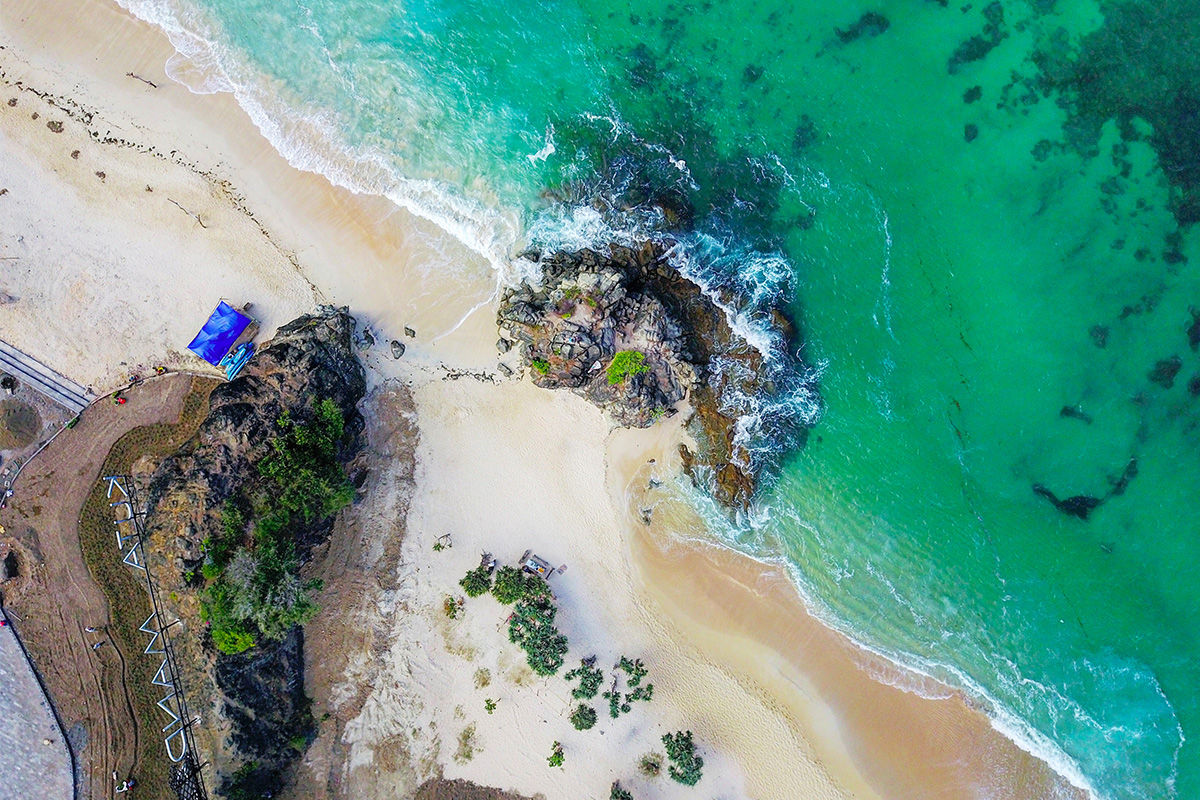 Blessed with beautiful nature and enhanced by the hands of professionals, Mandalika is designed to make your dream vacation a reality. With all its exceptional splendors, a trip here will be unforgettable and will make you long for more.
Get Around
Lording it over the northern half of Lombok, Gunung Rinjani (3726m) is Indonesia's second-tallest volcano. It's an astonishing peak, and sacred to Hindus and Sasaks who make pilgrimages to the summit and lake to leave offerings for the gods and spirits. To the Balinese, Rinjani is one of three sacred mountains, along with Bali's Agung and Java's Bromo. Sasaks ascend throughout the year around the full moon.
The mountain has climatic significance. Its peak attracts a steady stream of swirling rain clouds, while its ash emissions bring fertility to the island's rice fields and tobacco crops, feeding a tapestry of paddies, fields, and cashew and mango orchards.
Rinjani also attracts many trekkers who thrill to the otherworldly vistas. The volcano has become so popular that there were more than a thousand climbers on it during the first of the 2018 earthquakes, after which its slopes were evacuated. It remained closed for several months.
Inside Gunung Rinjani's immense caldera, sitting 600m below the rim, is the stunning, 6km-wide, turquoise crescent lake Danau Segara Anak (Child of the Sea). The Balinese toss gold and jewellery into the lake in a ceremony called pekelan, before they slog their way towards the sacred summit.
The mountain's newest cone, the minor peak of Gunung Baru (2351m), only emerged a couple of hundred years ago, its scarred, smouldering profile rising above the lake as an ominous reminder of the apocalyptic power of nature. This peak has been erupting fitfully for the last decade, periodically belching plumes of smoke and ash over the entire Rinjani caldera. Also in the crater are natural hot springs known as Aiq Kalak. Locals suffering from skin diseases trek here with a satchel of medicinal herbs to bathe and scrub in the bubbling mineral water.
With divine beaches, the majestic Mt Rinjani and spectacular marine life to discover, the island of Lombok in West Nusa Tenggara has no shortage of attractions both in and out of the water. It's no wonder that Lombok become one of the most popular destination in West Nusa Tenggara.
The Adventurous Trek
Challenge yourself with a trek up steep volcanic peaks. Hire a bike and cycle through lush evergreen rice paddies. Whichever way you choose to spend your time you won't be disappointed with the spectacular natural beauty on offer here.
Lombok Island is separated by the Lombok strait from Bali Island in the west and by Alas strait in the east from Sumbawa Island.
The Sasak people are the dominant ethnic group living in this island, which also consist of 5 regions: North Lombok, Central Lombok, East Lombok, West Lombok and Mataram city, the capital of West Nusa Tenggara.
North Lombok is where you can embark on the great hike to Mount Rinjani and linger until the sunset at Gili's beautiful beaches.
Mount Rinjani is one of the highest volcano in Indonesia, with its summit rising to 3,726 meters above sea level. The Segara Anak Crater Lake located on top of the volcano, is one of the scenic view you should stop by and marvel at!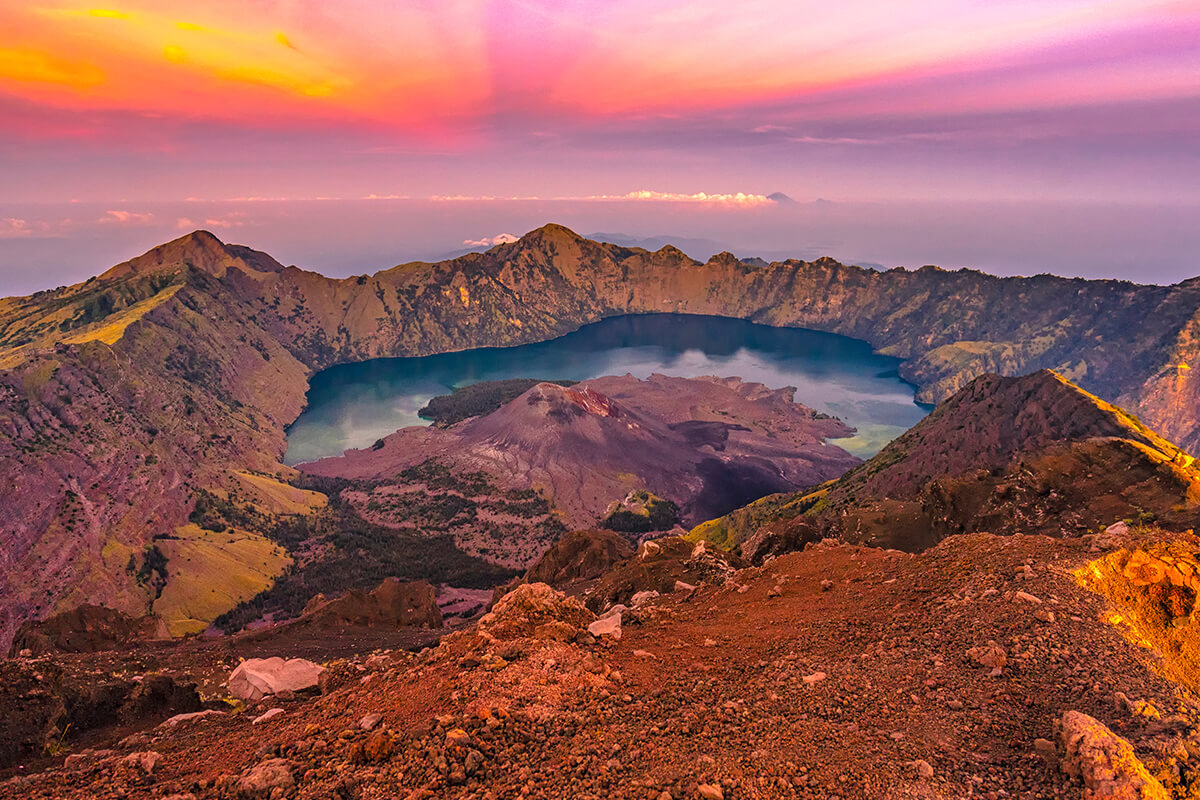 Explore the Waters
Among more than 20 gilis - local name that means "small island" in Sasak language - three stood out to be the hot spot destination : Gili Trawangan, Gili Meno and Gili Air.
Gili Trawangan or Gili T, is where travelers flock to enjoy a laid back atmosphere during day light and still are up to enjoy moonlit parties all night by the beach. You can also enjoy a great scuba dive and circle the island on bicycle to catch the most incredible sunset!
Gili Meno is defined by long stretch of pearly white beaches that will give you a secluded feel. Famous for honeymooners destination, the island provide accommodation ranging from unique bungalows to luxurious resorts overlooking amazing panorama.
Gili Air is a cheerful mix of the two vibes, where you can still enjoy parties in hip hang outs or succumb at a peaceful nook and just enjoy the ocean breeze. Families love to travel to Gili Air to explore the island on the horse drawn cart or just swimming in the low tides before sun down.
Central Lombok is where the lovely beaches are situated. Kuta Beach, Tanjung A'an, and Mawun Beach are just a few on the list. Don't miss out to brush up your wave riding skills in the splendid Selong Belanak Beach, or make way to Merese Hill and enjoy the view.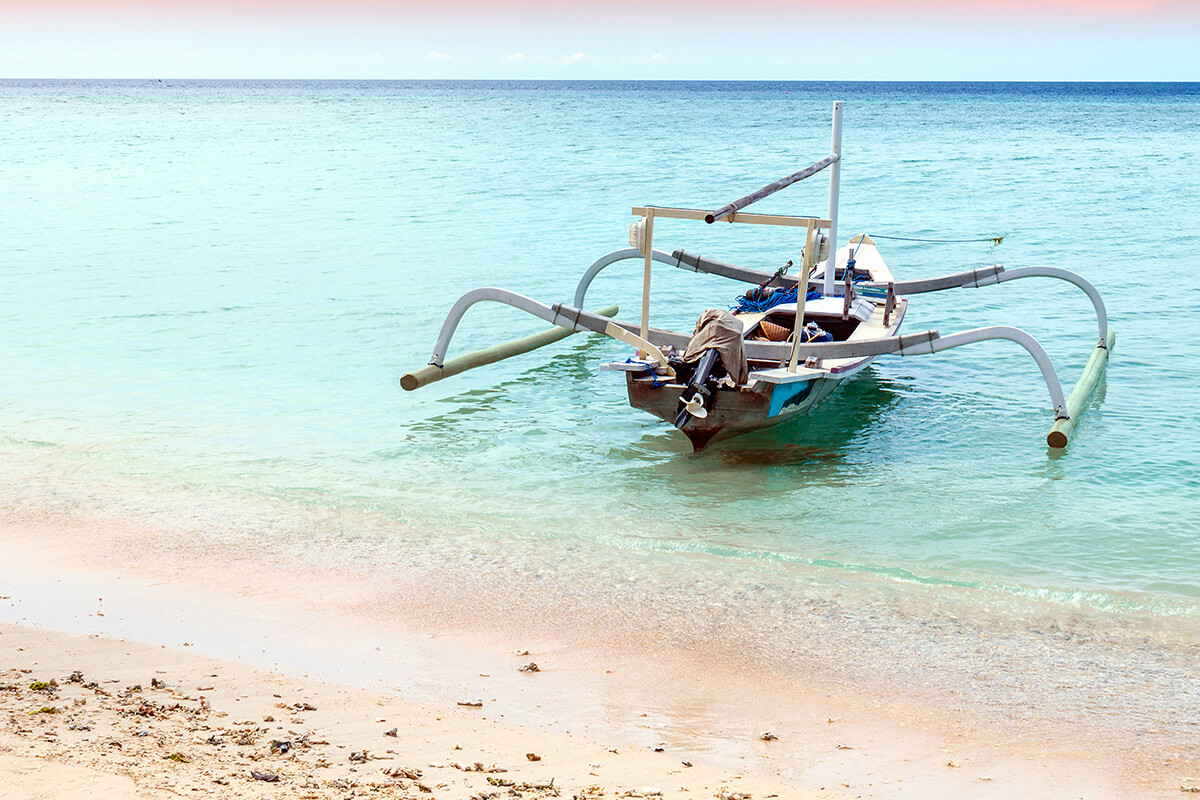 Blend in with the Locals
Here you can also visit the traditional villages and join the locals of Sasak tribe to experience their daily life in the weaving village of Sade and Rambitan. You may learn a thing or two from the wonderful women with meticulous weaving skills that produces fine quality textiles.
You can get across the sea to Sumbawa Island from the harbors in East Lombok. If you love exploring something new, you may find the black sand beach of Obel-Obel to be captivating!
In West Lombok, you can linger in Senggigi beach and discover the wild life at the Monkey Forest in Pusuk Village, right at the border between North and West Lombok. Just be careful with your belongings and keep them out of the monkey's reach.
Mataram is the center for government and industry. It consist of the old town district of Ampenan, Cakranegara as the commercial district and Mataram city as office district.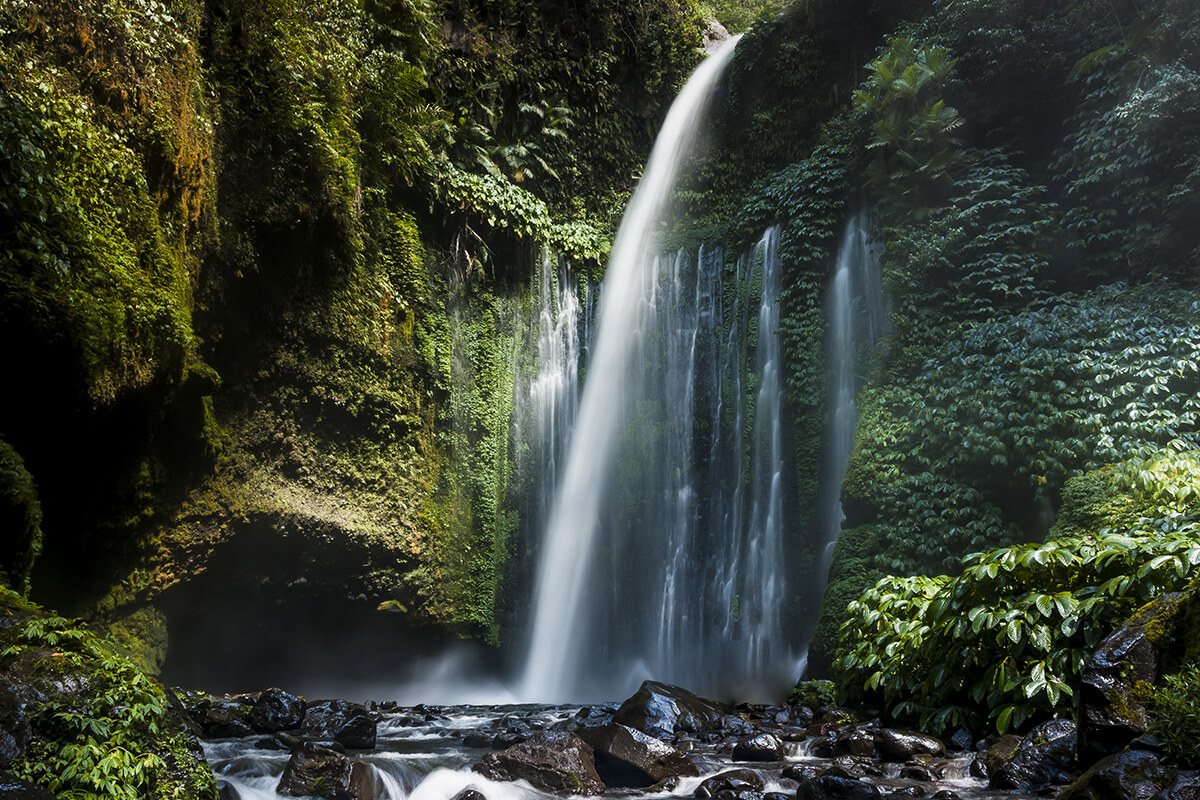 Make time to visit the West Nusa Tenggara Museum, Mayura Garden and Narmada Park to find more stories about the island.
For the adventurous spirit, you can explore more of its south coast like the famous Tangsi 'Pink' Beach in further south east, with pretty corals making the shore looked blushed. Trek the path to find the amazing Senaru Waterfalls and Benang Kelambu Waterfalls for a soothing sight.